Taranaki Art Tour - 3 nights & 2 days
Discover some of the treasures of Taranaki Art over 2 days/3 nights. Be guided by our experts through a range of art from the internationally acclaimed Govett-Brewster Art Gallery and Len Lye Centre to individual artist's studios of significance including access to the works of a range of artists such as Reuben Paterson, Don Driver, Peter Peryer, Tom Kreisler, Renate Verbrugge, John McLean, Anna Korver and Steve Molloy. Your visits to Govett-Brewster and Puke Ariki will include personalised tours and talks by renowned curators. Throughout you will experience great hospitality which compliments your superb accommodation including an intimate dinner with one of the recognised artists or experts in Taranaki. Full itinerary below.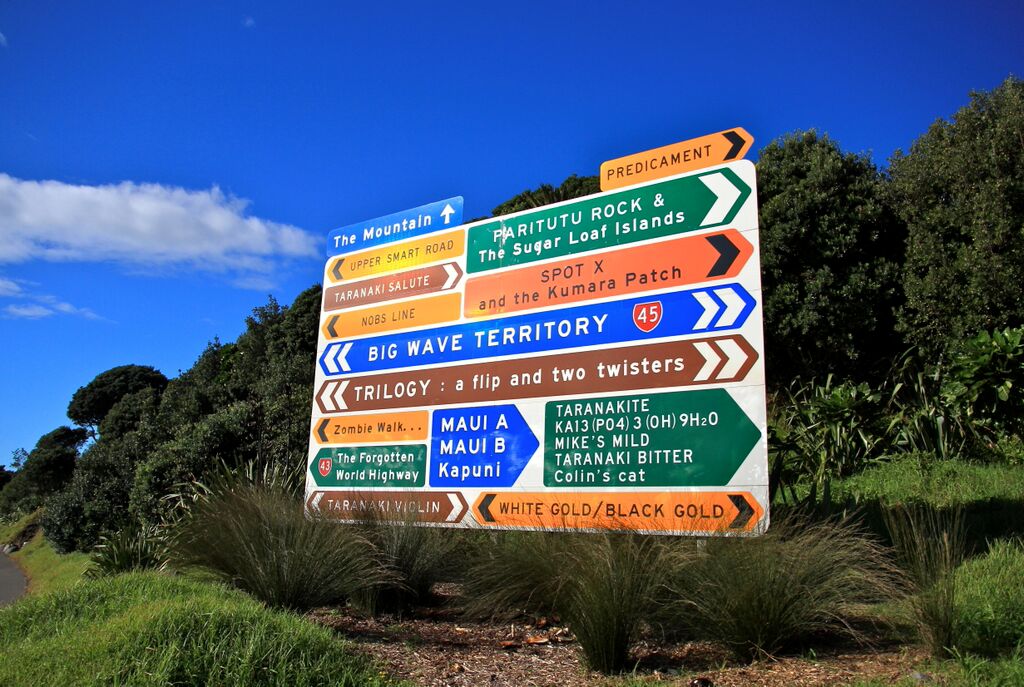 Price: From $1,945 twin share (50% deposit due at booking) Single Supplement available
Please contact us for further information
Includes
2 days / 3 nights all-inclusive
Consists of: a hosted evening, all meals, snacks, drinksand alcoholic beverages; transport on Day 2 to all the galleries ; 4 star luxury accommodation; curated tours of Govett-Brewster/ Len Lye and Puke Ariki; experienced local guides
Itinerary
First night
Taranaki's leading luxury boutique accommodation, the Nice Hotel, New Plymouth, will be your home for the next three nights.
You will be welcomed personally by Terry Parkes, the proprietor, or Cathy Thurston who will be your host for the evening.
Join Terry for a cocktail and nibbles ( he may even show you how to make them) followed by dinner and a few local stories. These have been a hit in the past (nights to remember). Or if Terry is away join one of Terry's chefs, and experience a lovely food and wine matched dinner before retiring to your beautiful accommodation to enjoy a blissful night's sleep.
Day One – Govett-Brewster Art Gallery/Len Lye Centre, Kina and Puke Ariki
After a sumptuous breakfast at the Nice Hotel, you will take a short walk with your guide to New Zealand's most courageous art museum, the acclaimed Govett Brewster Art Gallery and Len Lye Centre. The centre is home to the collection of modernist filmmaker and kinetic artist Len Lye. The combined facility reopens mid-2015 following the construction of the Len Lye Centre and earthquake strengthening of the original Govett-Brewster Art Gallery.
Here you will be met by one of the curators for a tour of the current exhibitions and/or the cinema programme . After a wander through the art shop you will visit Ozone Coffee Roasters in the heart of New Plymouth's cultural precinct. Here you will gain special access with an exclusive tour of Ozone Coffee Roasters headquarters. You'll learn about the direct trade sourcing values and the strong relationships that have been formed with farmers and producers in the countries of origin. Learn about the process of roasting coffee from an unassuming green bean through to aromatic and rich brown coffee. Watch the roaster accurately monitor each roast as it is carefully roasted to strict quality control standards before testing your sensory skills in the coffee lab. Back across the road you will be ready for lunch which will be served in Monica's Eatery. The cafe's menu and surroundings reflect the edginess of the adjacent gallery and will not disappoint.
After lunch you will visit Kina NZ Design + Art Space, a short walk away. Kina NZ Design + Art Space is passionate about New Zealand creativity and enjoys supporting NZ made art and design. The contemporary design store features glass art, ceramics, jewellery, sculpture, prints, paintings and various homewares. Each month Kina's attached gallery features a new exhibition of work by established and emerging artists. After a briefing by the owner Luella and the opportunity to view the gallery, you will headto Puke Ariki.
Puke Ariki is an innovative and vibrant museum, library and information centre that combines learning, knowledge, resources and heritage objects for a visitor experience that is "like no other. Opened in 2003 it was the world's first integrated museum, library and information centre. Here a curator will meet you and guide you through one of the exhibitions on display before taking you behind the scenes to get up close and personal with some of the collection. Here you will have the opportunity to learn about the history of some of the unique artefacts and how Puke Ariki came to acquire them for its collection.
You can then take your time to further explore the delights of Puke Ariki before meandering back to your hotel, passing an intriguing sculpture by Michael Parekowhai, Atarangi en route.
At 7pm, meet your host for the evening who will escort you to dinner and share with you more information about the arts in Taranaki.
Return to the Nice Hotel for a good night's sleep.
Day Two – Coach tour – Art in Public Places and Artists Studios in and around New Plymouth
After another delicious breakfast at the Nice Hotel, you will board your coach with your guide to visit a range of artists in North Taranaki selected from the following group depending upon availability. There will be opportunity for great coffee along the way and lunch will be at Okurukuru, a stunning location overlooking the Tasman Sea.
Renate Verbrugge. Renate is a stone sculptor who was born in Belgium and emigrated to New Zealand in September 1995. Renate is the co-organiser of the Te Kupenga Stone Sculpture Symposium, held in New Plymouth every second year in December/January. Renate says her stone sculptures are created out of pure inspiration. They are sculpted to be appreciated with your eyes, your hands, your heart, your soul.
John McLean has been an artist for over 40 years. His first 20 years focused on realist paintings on close observation and highly developed technique. Since 1995 his style has become more intuitive for which he is now most known and recognised for. John's work begins as abstract-expressionist compositions and the eventual figurative content evolves through his continued thoughtful involvement and painterly search. John has recently published a book -The Farmer's Wife and the Farmer which has received great reviews.
Howard Tuffery likes to use local native timber and andesite stone for the small and large high quality handcrafted objects that he makes. These vessels explore both the functional and ceremonial and reflect ideas of gathering and sharing, ritual and offering, holding and nurturing. In addition their rounded bodies, curved edges and intersecting lines are an expression of the Taranaki coast where he lives.
Don Driver's works which are still held by his widow, Joyce. Don Driver is recognised as one of New Zealand's most significant, challenging and independent contemporary artists. Largely self-taught, Driver's boundary-defying practice over 60 years saw him experiment constantly with the transformative power of diverse materials to produce compelling sculpture, painting, collage and assemblage works. His work received numerous awards and grants and is well represented in major public and private collections. Driver's practice ranged from brilliant colour work in paintings to provocative assemblages of found, banal and bizarre objects. Much of his work was inspired by journeys through India and North America. Driver contemplated and continually tested colour, shape, form and composition in his works.
Reuben Paterson either at his home or in his studio . Reuben is a leading contemporary Maori artist well known for his creations in glitter and diamond dust. Reuben received the prestigious Moet and Chandon Art Fellowship in 1997 which gave him aresidency period in France and the opportunity to see and experience art in galleries and museums throughout Europe. One of his well known works The Golden Bearing Tree is held in the collection of the Govett Brewster Art Gallery and has been displayed in Pukekura Park during the TSB Bank Festival of Lights
Lesley Kreisler Gallery. The gallery offers exhibitions and work by contemporary New Zealand artists including the highly acclaimed Tom Kreisler. Tom's drawings have been described as having the ability to both entertain and inform. Tom developed a humorous, subversive approach to paintingwhich is coming into its own today. A recent feature length documentary by Shirley Horrocks described Tom as a major New Zealand artist who is still little known.
Peter Peryer, a well known New Zealand photographer whose works are widely collected and held in all major New Zealand Institutions and internationally. He has an ONZM for his contribution to photography in New Zealand, he has been a Fulbright Scholar, was awarded the Arts Foundation Laureate Award in 2000 and the William Hodges Fellowship in 2007.
Fern Petrie is a graduate of Te Toi Hou; Auckland University's Maori Arts Department. She studied under two iconic NZ artists Brett Graham and Selwyn Muru. Fern has worked in many mediums including watercolour and printmaking and has developed painting and sculpture as her central disciplines. Fern's intensively detailed paintings are based on Victorian cabinet cards and explore the concepts of memory and storytelling through symbolism. Fern has exhibited in new Zealand, Australia and Paris.
Public Art works -John Reynold's sculpture 'Big wave Territory' ' The Mine' by Dale Copeland and the mini Windwands by Len Lye
The Korver Molloy Gallery. Anna Korver and Steve Molloy are both award winning specialists in sculpture and photography. Their gallery has an indoor fine art exhibition space as well as an outdoor sculpture walk which follows the river through beautifully landscaped gardens designed and owned by Tania Brown of the Plant Factory.
Koru Gallery. Fay Looney has established a gallery at her home displaying not only her work but also a range of other local artists from the area. Fay is a high profile New Zealand photographer who has enjoyed considerable success during a long and illustrious career. Fay was the first woman president of the New Zealand Professional Photographers Association, now the New Zealand Institute of Professional Photography. An interest in sports photography resulted in her being accredited to the Barcelona Olympics and several world equestrian championships. In the 1980s Fay also covered international rugby and golf events. At 60, Fay turned to the landscapes she had become familiar with, producing her now famous work. Faye will share some of her experiences and you will have the opportunity to look around her studio.
BijouEliot, a sophisticated art and design studio. Bijou Eliot specialises in selling fabrics and vintage and contemporary lighting and furniture. It is also a gallery space featuring a new artist every two months.
This evening you will meet for a drink in the bar at the Nice Hotel before adjoining to the restaurant for a delicious a la carte meal from Table with complimentary wine before retiring for the night.Enjoy breakfast the next morning before you depart for home or set off on another adventure.
* As part of the tour price a contribution will go to the Len Lye Centre Trust
REQUIRMENTS
Good walking shoes (should be comfortable and well broken in)
Raincoat
Camera
Guides
TERRY PARKES
Terry has had over 35 years in the hospitality industry and is the owner of New Plymouth's Nice Hotel, Table Restaurant and Best Suites. The flamboyant New Plymouth stalwart is just as well known as a host as he is as a vocal supporter of the arts. This is reflected within the hotel itself and in Terry's passion for most things arty or cultural in New Plymouth. As a member of the Art in Public Places Trust Terry along with his fellow trustees has been instrumental in commissioning, installing and funding a number of art installations in New Plymouth, some of which you will visit on this tour. Terry's other great love is for food and he is recently a contributor to the Great New Zealand Cookbook . He is also a celebrant and expert wedding designer.
SHARON WILSON
A former journalist, Sharon has worked in print, radio and television both in New Zealand and overseas, including early career stints with Taranaki Daily News and Radio Taranaki. In Aucklandshe moved into public relations and marketing, working both in-house and as a consultant to a variety of corporate organisations, including Watercare Services, Auckland City Council and Tourism New South Wales.
Her interest in art then lead her to becoming owner/director of one of Auckland's longest established galleries, Flagstaff Gallery in Devonport. Most of the artists selling through the gallery were full-time professionals, some with international standing in their fields, which covered painting, printmaking, sculpture, pottery and glass works.
In earlier years Sharon was publicist for the Govett-Brewster Gallery, at a time when the Len Lye collection was in its infancy, was on the gallery's friends' committee, and she was founding publicist for the Taranaki Festival of Arts.